Here is something weird but cool to have for the people following the CSI series. Add the Crime Scene Shower Curtain to your bathroom and scare away people who may unwittingly bother you while you are bathing privately. The transparent curtain is emblazoned with police tape that warns "Do Not Cross."
Aleksandr Mukomelov designed the Crime Scene Shower Curtain, and it has a fascinating design, which many people will love. You have to admit that this new trend has taken over the market, and CSI fans are thrilled to have this type of accessory in their bathroom.
While this entire concept might be a bit scary, it's a great way to have fun with your friend, especially on Halloween, when everyone is in the same mood. However, due to its particular design, it might not match some bathrooms, mostly if you have high-end appliances. But, in any other case, when you need a shower curtain, this Crime Scene one will do a fantastic job.
Now, let's see how you can incorporate it in your bathroom décor, and are there any other options you could explore.
Design
CSI shower curtain mostly target fans of this popular show, and if you aren't one, then you will hardly enjoy its appeal. The curtain is made of highly durable material that can uphold continuous exposure to water, without developing mold and any bacteria.

However, since this curtain is see-through, only featuring yellow "do not cross" sign throughout the middle, you might want something a bit extreme. Therefore, many companies allow you to customize your curtain, by adding the name, address, or other features, to make it a bit scarier. You can even add drops of blood if you are in Halloween mood.
How to install a shower curtain?
To be honest, a lot of people don't have shower curtains in their bathrooms. But, since CSI design appeared on the market, many of them are quite interested in installing shower rods, where they can attach this curtain.
However, you don't have to spend tons of money to have a rod in your bathroom, and we are going to show you how, since it's the process takes no more than one hour of work.
To avoid and drilling and screwing, we suggest you get a tension rod. They are ideal for people who want to finish the job quick and easy, considering there is no hardware involved. While this is an easy solution, tension rods aren't secure and can fall out of place if tugged.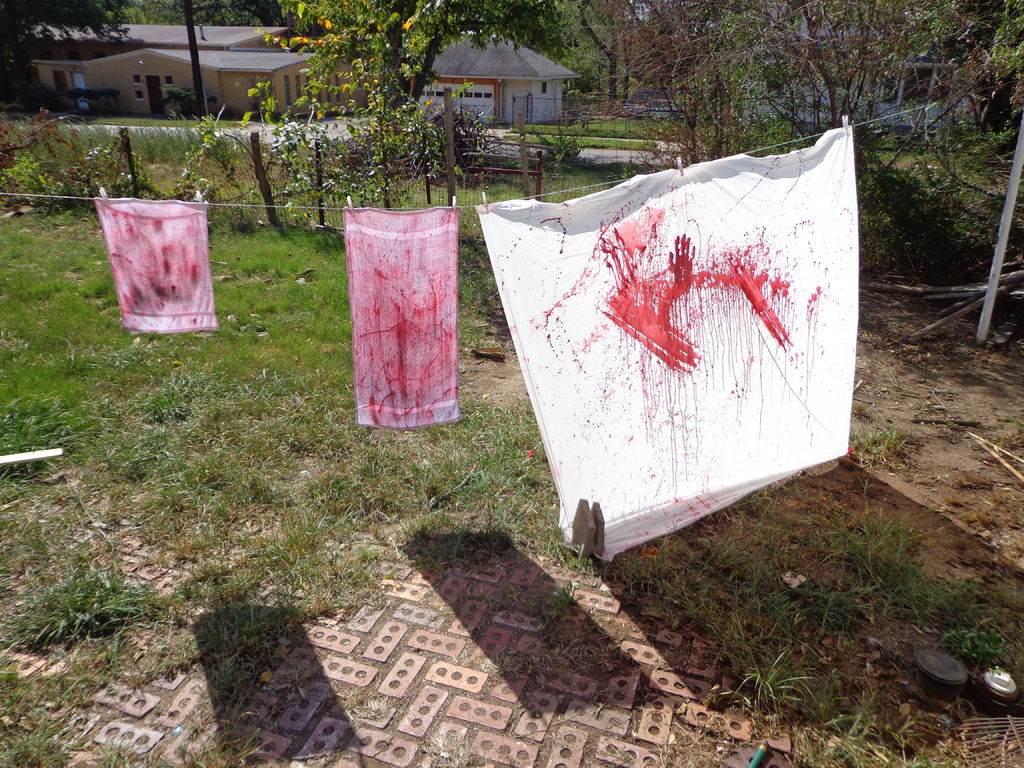 But, you need to apply a lot of pressure to remove tension rod off your walls, especially if you install it properly, and set up the right amount of tension.
On the other hand, if you don't want to risk, then you can always go for a fixed rod. Nowadays, you can find them in a variety of styles, and they are relatively easy to install. Fixed rods can either be straight or curved, and they are mounted onto the walls using hardware.